Description
Chromium (Cr) is a hard, bluish metallic element. The only ore of chromium is the mineral chromite and 99 percent of the world's chromite is found in southern Africa and Zimbabwe. Geologists estimate that there are about 11 billion tons of mineable chromite ore in the world, enough to supply the current demand for hundreds of years. It is mostly used for making stainless steel and other metal alloys.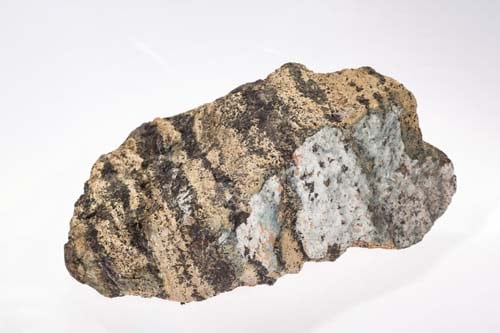 | | |
| --- | --- |
| Type | Crystal System |
| Element (Minerals/Ores of) | Isometric |
| Mineral Classification | Color |
| Oxide | Black to brownish black; brown to brownish black on thin edges in transmitted light |
| Chemical Formula | Luster |
| (Fe, Mg)Cr2O4 | Submetallic |
| Streak | Fracture |
| Brown | Uneven |
| Mohs Hardness | |
| 5.5 | |
Relation to Mining
While China is the leading chromium-consuming country and the leading stainless steel producer, it is not a large producer of chromite ore. The United States, Kazakhstan, India and South Africa are the largest chromite-mining countries in the world. The mining method used for extracting chromite depends greatly on the characteristics of the deposit. These characteristics include whether it is stratiform or podiform, high grade or low grade, subsurface or near surface, or massive or disseminated. Because surface mining typically is less expensive than underground mining, it is preferred, but not always possible.
Like mining, beneficiation (processing, crushing, separating, smelting, refining, etc.) for chromite depends on the characteristics of the ore deposit and on the mining methods used. For example, an operation extracting only high-grade ore may require only hand sorting and screening. Beneficiation is necessary when chromite mineral is mixed with other minerals because of geologic conditions or when mechanized mining methods are nonselective.
Uses
Chromium is alloyed (that is, mixed) with steel to make it corrosion-resistant or harder. An example is its use in the production of stainless steel, a bright, shiny steel that is strong and resistant to oxidation (rust). Stainless steel production consumes most of the chromium produced annually. Chromium is also used to make heat-resisting steel. So-called "superalloys" use chromium and have strategic military applications.
Chromium also has some use in the manufacture of certain chemicals. For example, chromium-bearing chemicals are used in the process of tanning leather. Chromium compounds are also used in the textiles industries to produce a yellow color.
Chromium Beneficiation Process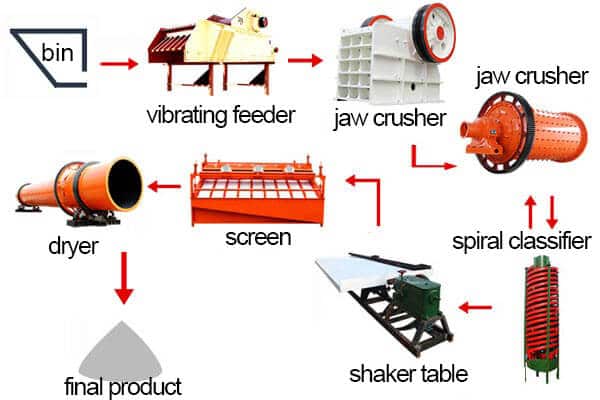 1. Large raw chrome ore for primary crushing are fed into the jaw crusher by Plate feeder and are reduced to 8 inches or smaller. After first crushing, the material will be transferred to cone crusher by belt conveyor for secondary crushing; the crushed chrome ore stone will then transferred to vibrating screen for classifying. After classifying, the parts whose size below the mesh size will be transferred away as final products, while the other parts will return to cone crusher, thus forming a closed circuit. Size of final products can be combined and graded according to your specific requirement.
2. The smaller crushed chrome ore is fed to ball mill for grinding. Inside the ball mill, the crushed chrome ore will grind the ore to about 0.2 mm with 3-inch steel balls.
3. Screened products are transported to the jig for rough separation and to three concentrating tables for fine separation. Then, tailings are delivered into the jig in the next stage for screening for 4 times like this. All tailings int he concentrating table are sent to tailings reservoir after tailings dry stacking.
Cases Study - Chromium Mining
50TPH Chromite Ore Beneficiation Process in South Africa
Material: rock type chrome ore
Capacity: 50TPH
Country: South Africa
Feeding size: 150mm
Mineral condition description: in raw ore 38-40% Cr2O3
Customer's requirements: Chromite concentrate with 44-46% of Cr2O3
---Read more---
24TPH Chrome Ore Processing Plant in South Africa
Material: rock type chrome ore
Capacity: 24TPH
Country: South Africa
Feeding size: 150mm
Mineral condition description: The grade of chromium concentrate in the raw ore is about 28% to 36%.
Customer's requirements: The grade of chromium concentrate up to 45%.
---Read more---
1.2TPH Chromite Ore Beneficiation Process Flow
Material: rock type chrome ore
Capacity: 1.2TPH
Country: Italy
Feeding size: 50-250mm
Mineral condition description: in raw ore 7-20% Cr2O3
Customer's requirements: Chromite concentrate with 35-42% of Cr2O3
---Read more---
25TPH Chromite Ore Concentrating Plant in South Africa
Project: extraction of chromium from its ore
Country: South Africa
Mineral type: chromite ore
Capacity: 25TPH
Mineral property: Grade of chrome concentrate in raw chromite ore is 28% – 36%.
Customers requirement: The grade of the processed chromium concentrate needs to be 42% – 45%
Feed particle size: 150mm
---Read more---
15TPH Chrome Ore Beneficiation Process in Ukraine
Material: rock type chrome ore
Capacity: 15TPH
Country: Ukraine
Feeding size: 150mm
Mineral condition description: in raw ore 15-22%Cr2O3
Customers requirements:
1. Chromite concentrate with 45-52% of Cr2O3
2. And wastes could be with 3-6% of Cr2O3 – we (customer) will treat wastes by chemicals, get the again chromite concentrate (30-35% of Cr2O3, other SiO2) and back this chemical concentrate to magnetic separation.
---Read more---