0.65 to 90 TPH Ball Mills
Ball mill is a key equipment for grinding materials. thus grinding ball mills are widely used in the mining beneficiation process, and it has a wide range of suitable grinding mineral and can works on wet and dry grinding processing. our JXSC's ball mills are perfectly used for ores such as gold, iron, zinc ore, copper, etc.
JXSC Mining produce reliable effective ball mill for long life and minimum maintenance, incorporate many of the qualities which have made us being professional in the mineral processing industry since 1985. Various types of ball mill designs are available to suit different applications. These could include but not be restricted to coal mining grate discharge, dry type grinding, wet mineral grinding, high-temperature milling operations, stone & pebble milling.
Bill Mill Product Highlights
High beneficiation efficiency, high fineness of ore powder.
Large discharge port, large handling capacity.
High production capacity, smooth operation.
Easy to install and maintain.
Application of ball mills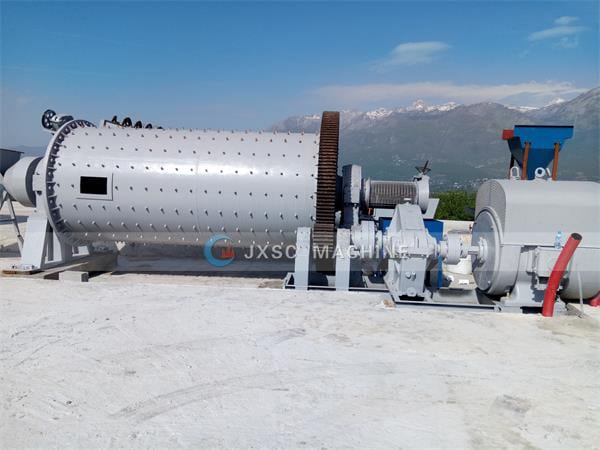 A ball mill grinds ores to an end product size of thirty-five mesh or finer.
The feeding material to a ball mill is treated by:
• Single or multistage crushing and screening
• Crushing, screening, and/or rod milling
• Primary crushing and autogenous/semi-autogenous grinding.
Normal feed sizes:
eighty percent of six millimeters or finer for hard rocker
eighty percent of twenty-five millimeters or finer for fragile rocks (Larger feed sizes can be tolerated depending on the requirements).
The ratio of machine length to the cylinder diameter of cylindrical type ball mills range from one to three through three to one. When the length to diameter ratio is two to one or even bigger, we should better choose the mill of a Tube Mill.
Grinding circuit design
Grinding circuit design is available, we experienced engineers expect the chance to help you with ore material grinding mill plant of grinding circuit design, installation, operation, and optimization.
The automatic operation has the advantage of saving energy consumption, grinding media, and reducing body liner wear while increasing grinding capacity. In addition, using a software system to control the ore grinding process meet the requirements of different ore milling task.
We always keep innovating and improving to incorporate with many qualities, known name famous with responsibility and integrity.
Ball mill working principle
The ball mill is a typical material grinder machine which widely used in the mineral processing plant, ball mill performs well in different material conditions either wet type grinding or dry type, and to grind the ores to a fine size.
Main ball mill components: cylinder, motor drive, grinding medium, shaft. The cylinder cavity is partial filling with the material to be ground and the metal grinding balls. When the large cylinder rotating and creating centrifugal force, the inner metal grinding mediums will be lifted to the predetermined height and then fall, the rock material will be ground under the gravity force and squeeze force of moving mediums. Feed material to be ground enters the cylinder through a hopper feeder on one end and after being crushed by the grinding medium is discharged at the other end.
Model
Shell rotation speed(r/min)
Ball load
Feeding size
Discharging size
Capacity
Motor power
Weight
(t)
(mm)
(mm)
(t/h)
(kw)
(t)
Ø 900*1800
36-38
1.5
< =20
0.075-0.89
0.65-2
18.5
4.6
Ø 900*3000
36
2.7
< =20
0.075-0.89
1.1-3.5
22
5.6
Ø 1200*2400
36
3
< =25
0.075-0.6
1.5-4.8
30
12
Ø 1200*3000
36
3.5
< =25
0.074-0.4
1.6-5
37
12.8
Ø 1200*4500
32.4
5
< =25
0.074-0.4
1.6-5.8
55
13.8
Ø 1500*3000
29.7
7.5
< =25
0.074-0.4
2.0-5.0
75
15.6
Ø 1500*4500
27
11
< =25
0.074-0.4
3.0-5.0
110
21
Ø 1500*5700
28
12
< =25
0.074-0.4
3.5-6
130
24.7
Ø 1830*3000
25.4
11
< =25
0.074-0.4
4.0-10.0
130
28
Ø 1830*4500
25.4
15
< =25
0.074-0.4
4.5-12
155
32
Ø 1830*6400
24.1
21
< =25
0.074-0.4
6.5-15
210
34
Ø 1830*7000
24.1
23
< =25
0.074-0.4
7.5-17
245
36
Ø 2100*3000
23.7
15
< =25
0.074-0.4
6.5-36
155
34
Ø 2100*4500
23.7
24
< =25
0.074-0.4
8-43
245
42
Ø 2100*7000
23.7
26
< =25
0.074-0.4
8-48
280
50
Ø 2200*4500
21.5
27
< =25
0.074-0.4
9-45
280
48.5
Ø 2200*6500
21.7
35
< =25
0.074-0.4
14-26
380
52.8
Ø 2200*7000
21.7
35
< =25
0.074-0.4
15-28
380
54
Ø 2200*7500
21.7
35
< =25
0.074-0.4
15-30
380
56
Ø 2400*3000
21
23
< =25
0.074-0.4
7-50
245
54
Ø 2400*4500
21
30
< =25
0.074-0.4
8.5-60
320
65
Ø 2700*4000
20.7
40
< =25
0.074-0.4
12-80
400
94
Ø 2700*4500
20.7
48
< =25
0.074-0.4
12-90
430
102
Ø 3200*4500
18
65
< =25
0.074-0.4
-----
800
137