JXSC build a close relationship with coltan mining plant in the Congo, Ethiopia, Nigeria, Zimbabwe, Mozambique, Namibia, South Africa and Egypt, offer qualified mining equipment to mining companies since 1985.
Minerals: Coltan ore
Capacity: 100TPH
Process: this plant Adopts sieving process to grading the raw ore, then big size fraction goes to the grinding process, then the gravity separation process with jig separator, the small concentrate would be refined by shaking table in the last step.
Machines:
Vibrating feeder – 1set( Model ZSW380*96)
Vibrating screen – 1set(Model SZZ1250*2500)
Cone crusher – 1set( Model PYD600)
Jig separator – 3sets( Model JT5-2)
Shaking table – 4sets( Model 6S-4500)
Vibration feeder can feed coltan bearing ore evenly to vibrating machine, the vibrating screen is used to classify the material into 3 fractions.+30mm,10-30mm,-10 mm.10-30mm would go to cone crush for grinding until -10mm. Jig separator is to concentrate the coltan particle. +2mm coltan concentrate would generate on the sieve.
-2mm coltan concentrate would pass the jig separator screen and then re-concentrated by shaking table.
JXSC has provided a complete set alluvial coltan washing plant to Uganda miner. This plant is in 100TPH input process capacity, the coltan particle size is -30 mm. We designed the process flowchart based on the ore conditions and customer's requirement, manufacture full set separation machines, and arrange an engineer to mine site for equipment installation and commissioning guidance. JXSC can design and customize a solution for all coltan miners. In order to consider the best plant location and process flow. we can arrange an engineer and geologist to do a site survey.
The rough selection of coltan ore beneficiation is generally carried out by gravity separation. The concentrated selection is always combined with gravity separation, flotation, electromagnetic separation. The ore washing step is an essential prerequisite for processing muddy ore or fine ore. Efficient grinding and classifier equipment to reduce muddy minerals.
The rough selection of coltan ore in foreign countries is still mainly based on gravity separation, the dressing process is simple. For example, the Grimbs mine directly uses a jig for a rough selection of -10mm ore. The gravity separator-flotation-gravity separation process formed in the 1980s in Bonn Lake, Canada, is becoming more and more perfect. The process is still dominated by gravity separator, and flotation is only used to treat fine mud. The re-election equipment used a spiral concentrator and a Jiangxi Shicheng 6S shaker.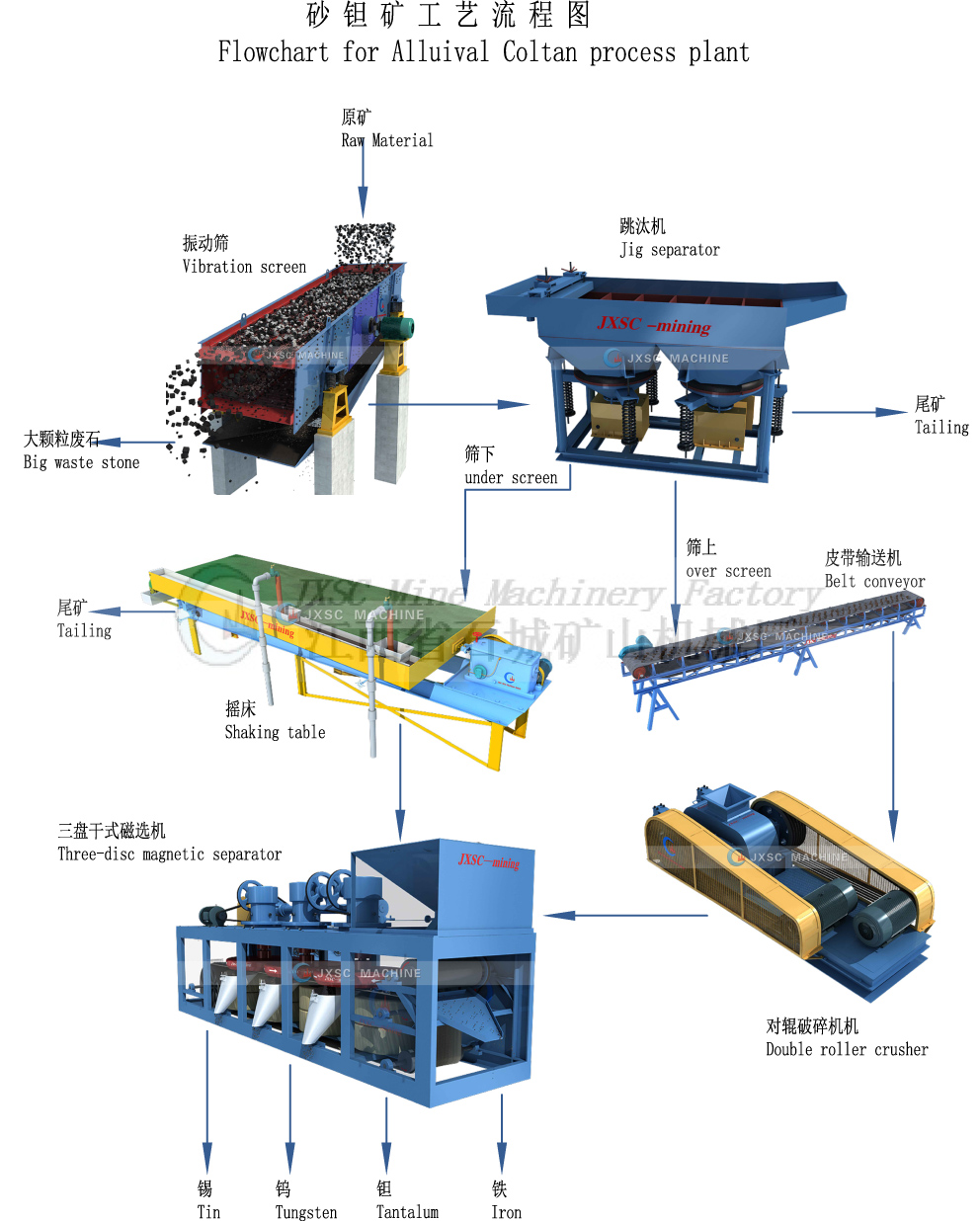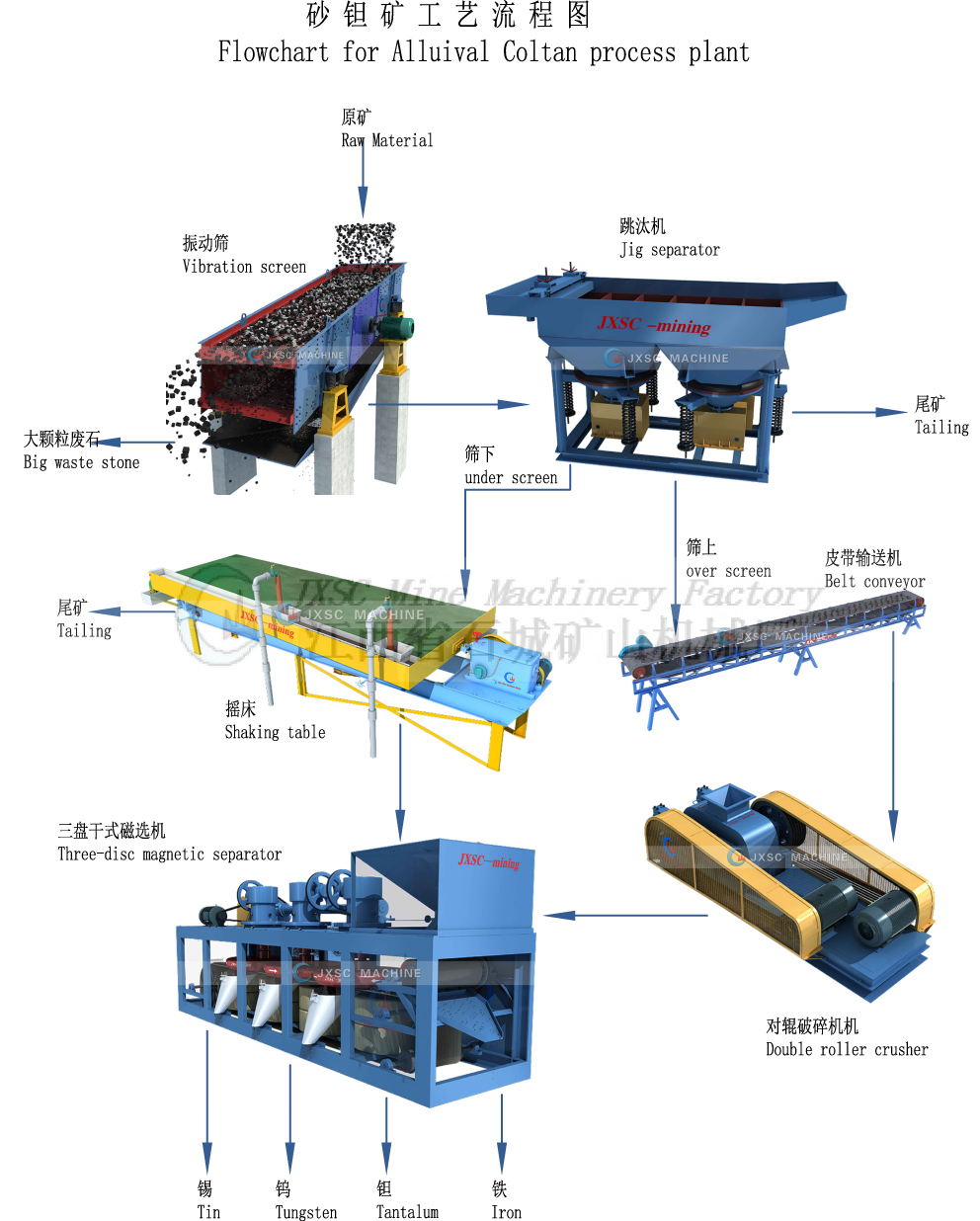 Coltan mining process equipment list
| | | | |
| --- | --- | --- | --- |
| No. | Equipment name | Unit | Qty |
| 1 | Vibrating screen | SET | 2 |
| 2 | Spiral Classifier | SET | 1 |
| 3 | Conveyor belt | SET | 10 |
| 4 | Magnetic separator | SET | 1 |
| 5 | Jig separator | SET | 3 |
| 6 | Vibrating feeder | SET | 1 |
| 7 | Double roller crusher | SET | 1 |
| 8 | Shaker table | SET | 1 |