Tin Mining, Processing Solutions and Equipment
There are more than 50 kinds of tin-containing minerals known in nature, and within them, about 20 kinds are tin abundance minerals. The most important and economic significance tin containing ore is cassiterite, followed by yellow tin ore. In some deposits, sulphur-tin-lead ore, stibnite, cylindrical tin ore, and sometimes black sulphur-silver-tin ore, black boron-tin ore, Malayanite, schistite, brucite, etc. also contain relatively rich amount of tin ions, which can be used for tin mining beneficiation.
Tin mining equipment
Our factory JXSC professional in tin mining equipment. We built a complete 10TPH Hard Rock Tin Processing Plants for one of our Zambia client. The process flow is Crushing --> Screening --> Grinding --> Concentration.
Description:
The whole plant consist of 1 set Vibrating feeder, 1 set swing feeder, 1 set Jaw crusher, 1 set fine Jaw crusher, 1 set Vibrating screen, 1 set Ball mill, 1 set Spiral Classifier, 4 sets Conveyor belt, 2 sets Sand pump, 1 set Water pump, 16 sets Classifier box, 24 sets Shaking tables, also include water pipes, interconnecting part for machines, electric cabinets and other supporting accessories.
-- Process of Crushing & Screening & Grinding:
Firstly, the rock gold bearing ore will be crushed by Coarse jaw crusher, then feed to Fine jaw crusher, fine crusher is second section as fine crushing process, after this step, the output will feed to vibrating screen separate out bigger particles and smaller particles, big particles (+25mm) return back to Cone crusher for re-crushing, 0-25mm particles go to ball mill to grind super fine size(0.074-0.4mm).
-- Process of Concentration:
after grinding, the concentration equipment we used is Shaking Tables, total quantity is 24 sets which divide into two groups, 16 sets for 1st group, 8sets for 2nd group for re-concentration.
JXSC Shaking Table is one of our flagship mining equipment with more than 30 years experiences. It enjoys very high, up to 95% high recovery rate which widely used to concentrate tin and other heavy minerals.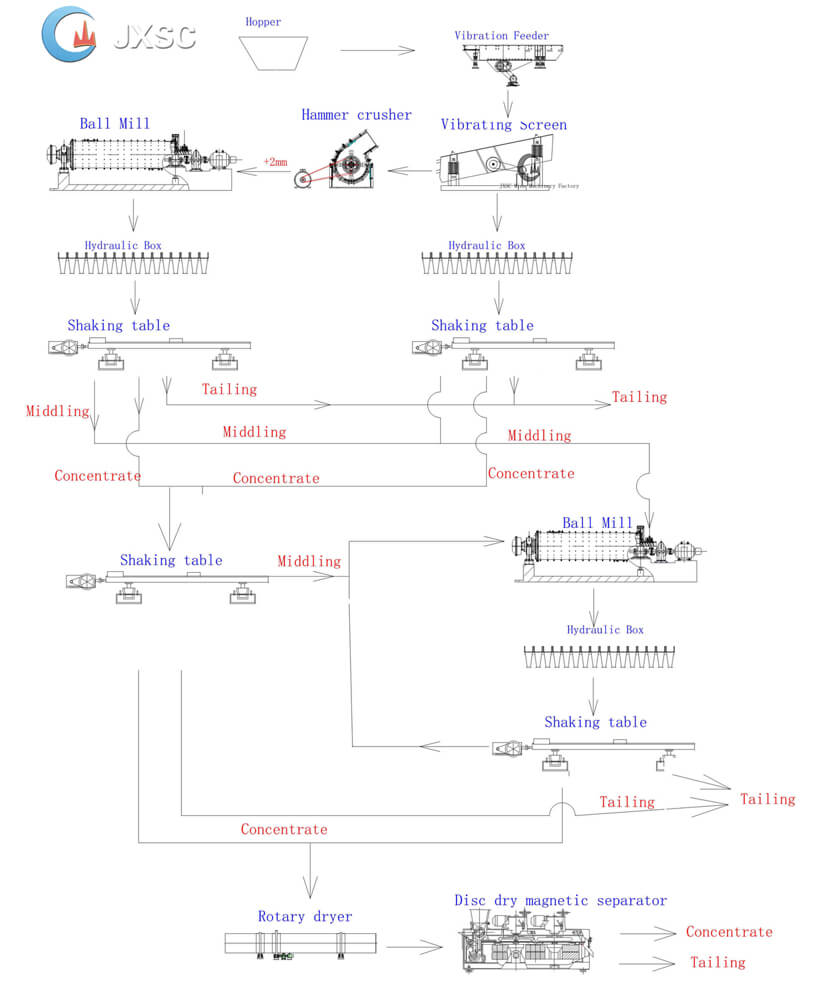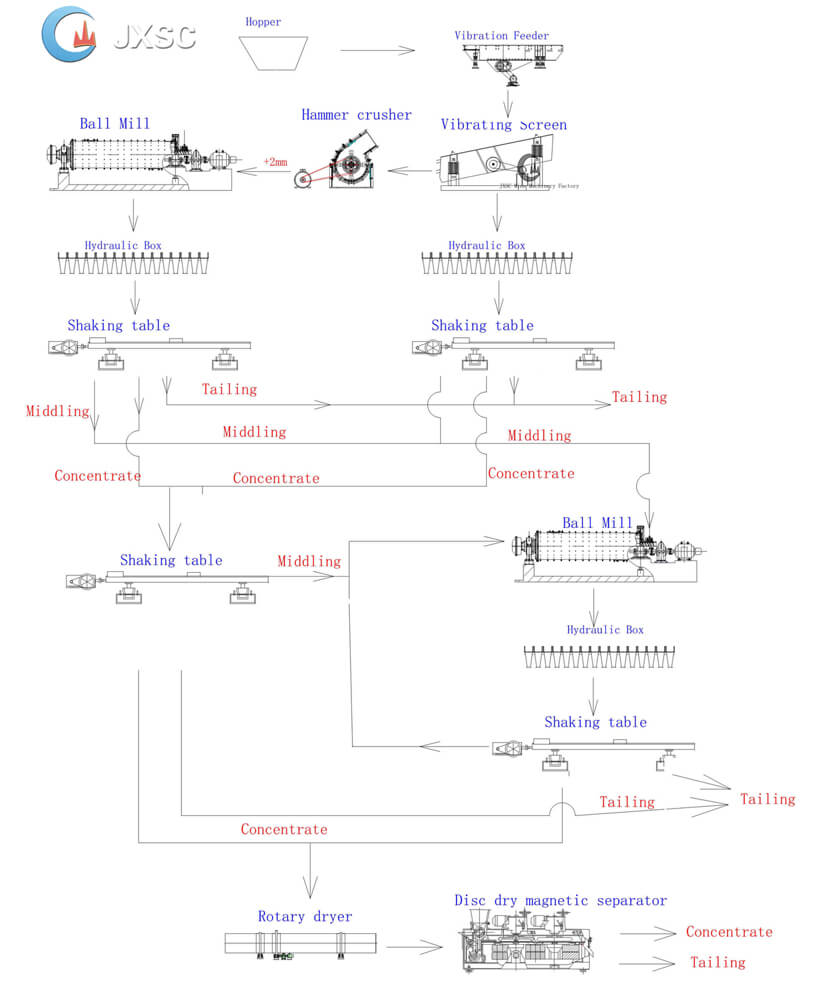 Tin mining equipment list
| | | | |
| --- | --- | --- | --- |
| No. | Equipment name | Unit | Qty |
| 1 | Vibrating screen | SET | 2 |
| 2 | Spiral Classifier | SET | 1 |
| 3 | Spiral separator | SET | 3 |
| 4 | Magnetic separator | SET | 1 |
| 5 | Vibrating feeder | SET | 1 |
| 6 | Shaker table | SET | 4 |
| 7 | Ball mill | SET | 2 |
| 8 | Hammer crusher | SET | 1 |
| 9 | Dryer | SET | 1 |