JXSC build a close relationship with manganese mining plant in Australia, Brazil, Myanmar, India, Ghana, Mexico, Ukraine, South Africa. offer qualified mining equipment to mining companies since 1985.
Manganese ore beneficiation method
The types of manganese ore can be basically divided into manganese oxide ore, manganese carbonate ore, polymetallic manganese ore, etc. Therefore, manganese dressing equipment is also diverse. Manganese ore is generally sorted by gravity separation beneficiation method. Manganese ore with finer and more uniform grain size can be improved by strong magnetic separation or flotation. The following is a brief introduction to the ore dressing equipment of manganese ore mining process.
1 Gravity separation
Manganese gravity separation process flow: the raw ore enters the silo, is broken into a rough jaw crusher through a belt conveyor, and then enters the fine crusher for secondary crushing. After two crushed ores, the ore is basically free of large stones. The vibrating screen is screened. The crushed ore is divided into two grades of 0-8mm and 8-30mm. The coarse ore larger than 30mm is returned to the crusher for crushing. 0-8mm grade manganese ore is fed into the 2LTC6109/8T jig for gravity sorting, and 8-30mm grade manganese ore enters the AM30 jig for re-election, respectively obtaining 0-8mm grade manganese concentrate and 8 -30mm grade manganese concentrate.
1.1 Manganese ore magnetic separator
The manganese ore magnetic separator produced by the Shicheng County Mining Machinery Plant in Jiangxi Province is a dry type strong magnetic separator, which uses high-quality NdFeB. The magnetic field strength of the strong magnetic roller made of the material is up to 15000 Gauss, which can effectively sort a variety of weak magnetic minerals such as hematite, limonite, mirror iron ore, manganese ore and garnet.
Manganese ore magnetic separator is mainly used for magnetic beneficiation of minerals such as medium-sized, fine-grained manganese oxide ore and manganese carbonate ore mining process. It has the advantages of high efficiency, energy saving, environmental protection, dry beneficiation and waterless operation.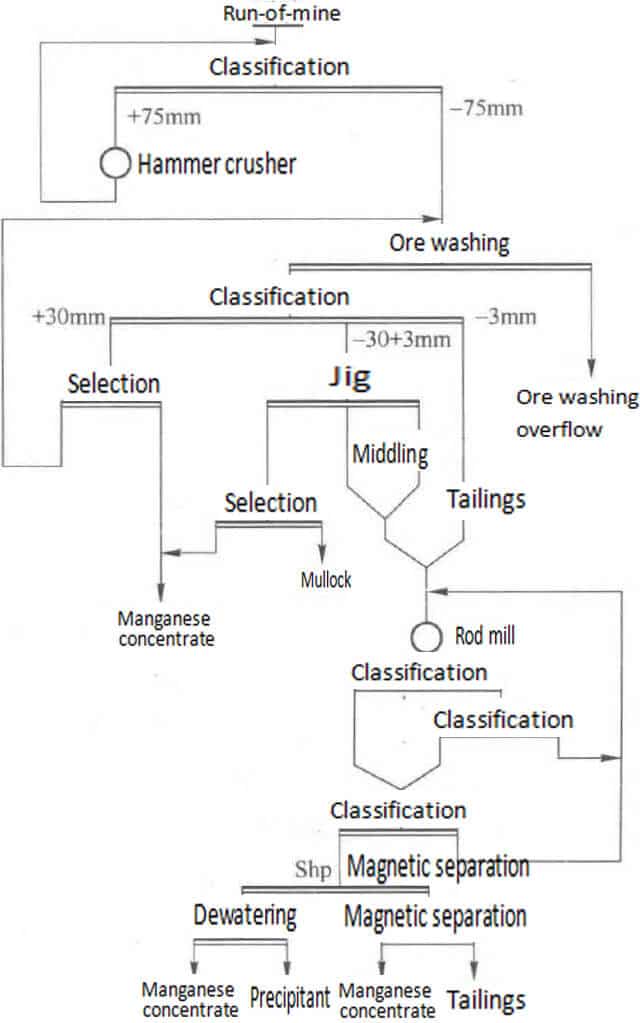 1.2 Manganese ore jig concentrator
The specific gravity difference between manganese and waste rock in manganese oxide ore is large. The method of gravity beneficiation can carry out an efficient sorting operation for most manganese oxide ore. The main gravity separator equipment is the jig machine. The manganese mine jig separator produced by Shicheng County Mining Machinery Factory in Jiangxi Province has various models for customers to choose. It can efficiently jig ore dressing of 0-50mm manganese oxide ore with excellent ore dressing effect.
Manganese ore jig is mainly used for manganese ore beneficiation of coarse, medium and fine grain inlays. It has the advantages of high efficiency, energy saving and environmental protection.
2 Manganese ore flotation machine
Manganese ore can also be sorted by the flotation method. The manganese ore flotation machine is mainly used for the flotation of manganese carbonate ore and polymetallic manganese ore, and is suitable for ore sorting of fine-grained inlays.
There are many types of manganese ore mining process methods and manganese ore beneficiation equipment. According to different mineral properties, different beneficiation processes and settings can be used to obtain better beneficiation indexes. The specific process is also commonly used in washing machines, vibration. Auxiliary equipment such as a sieve, ball mill, crusher, electromagnetic vibrating feeder.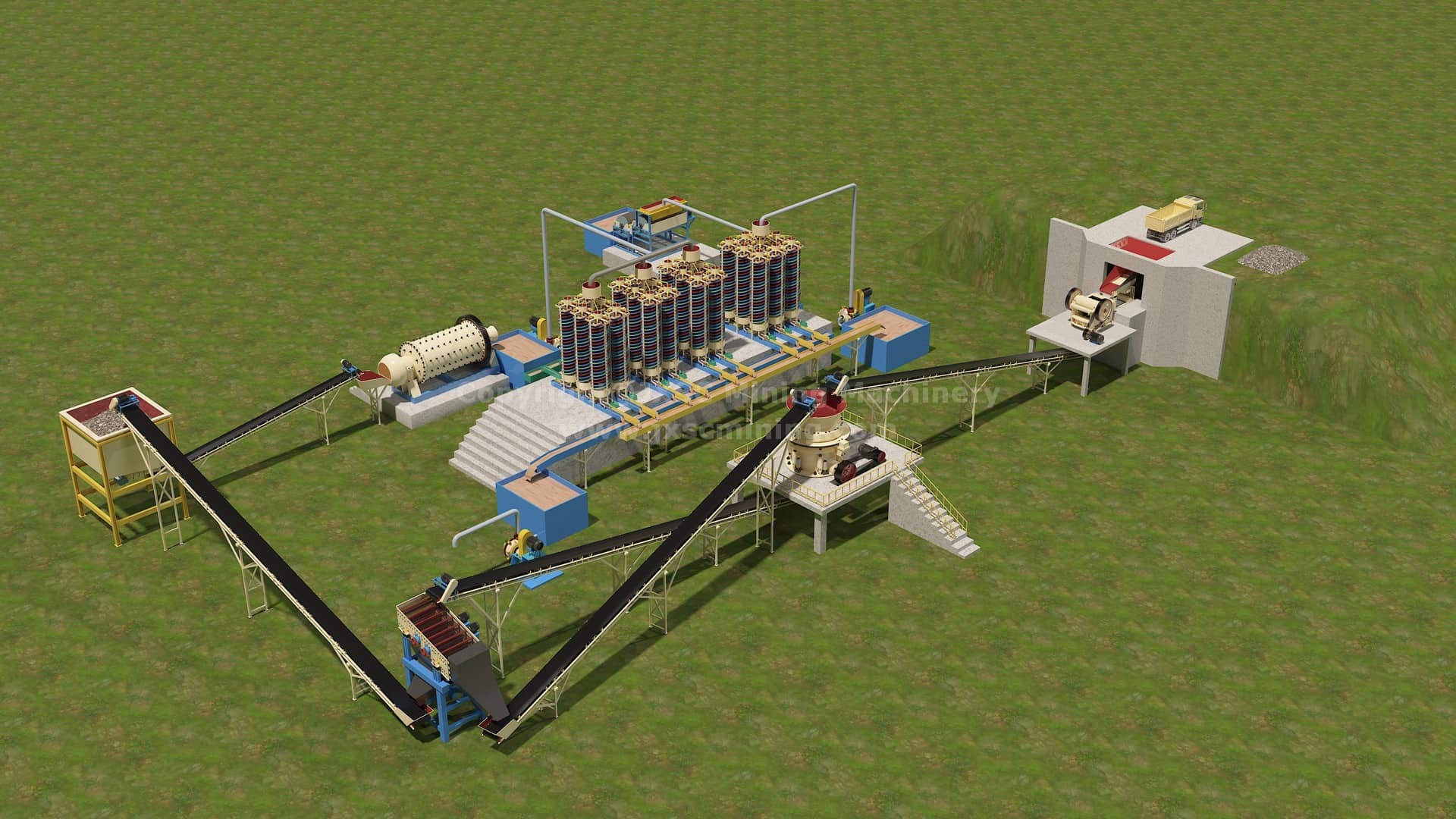 Manganese processing plant equipment list
| | | | |
| --- | --- | --- | --- |
| No. | Equipment name | Unit | Qty |
| 1 | Vibrating screen | SET | 2 |
| 2 | Spiral Classifier | SET | 1 |
| 3 | Conveyor belt | SET | 10 |
| 4 | Strong magnetic separator | SET | 2 |
| 5 | Scrubber washer | SET | 3 |
| 6 | Vibrating feeder | SET | 1 |
| 7 | Hammer crusher | SET | 1 |
| 8 | Ore washer | SET | 1 |