Iodine (element #53, symbol I) is a shiny blue-black solid element.  Bernard Courtois discovered it in 1811.  When iodine is heated, it sublimates, that is, it goes from a solid to a vapor without going through the liquid phase.
There are no significant iodine minerals.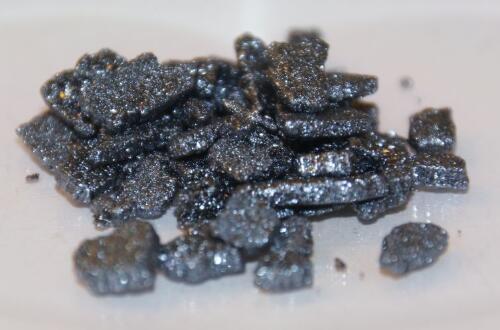 Iodine Mining
Iodine is primarily retrieved from underground brines (water with many dissolved salts and ions) that are associated with natural gas and oil deposits.  It is also retrieved as a by-product with nitrate deposits in caliche deposits.  Chile's production of iodine is from this source.  Seawater contains 0.05 ppm (parts per million) iodine which means that there are approximately 76 billion pounds of iodine in the world's oceans. Iodine was first discovered in seaweed.  Dried seaweeds, particularly those of the Liminaria family, contain as much as 0.45% iodine.  Seaweed was a major source of iodine before 1959, and is a significant source for iodine in the diets of many people around the world.  Production from caliche is presently the most economical of the options listed here.
Chile is the world's leading iodine producing nation.  Japan is second.  Russia also produces significant amounts of elemental iodine.
Iodine Uses
Iodine is used in a number of chemical and biological applications. Silver iodide is used in photography. Iodide is used as a disinfectant. Iodine compounds are used as a catalyst. It is used as a supplement in animal feeds. Potassium iodine is included in table salt as a simple way to assure adequate iodine in the human diet. It is also used to make inks and colorants.
Production of iodine from caliche ore is a two-step process:

1. Extraction of iodate solutions from the caliche ore
2. Reduction of iodate to iodine
Iodate can be extracted from ore by leaching in one of two ways depending on the ore's nitrate concentration:
•Heap leaching for low nitrate containing ores
•Vat leaching from high nitrate containing ores
Most of the iodate solution from leaching goes through a sulfur oxide absorption tower. The iodide produced mixes with the rest of the iodate solution, which results in a suspension. The iodine in suspension is reduced to iodide, with the addition of sulfur oxide, and then recovered as a concentrated iodide solution. Most iodine precipitates out of the solution to form crystals, which are captured by flotation.