The term phosphate rock (or phosphorite) is used to denote any rock with high phosphorus content. The largest and least expensive source of phosphorus is obtained by mining and concentrating phosphate rock from the numerous phosphate deposits of the world.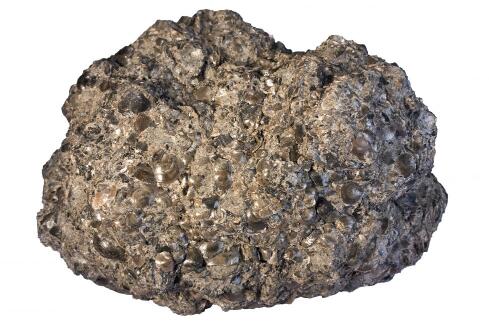 Some phosphate rock is used to make calcium phosphate nutritional supplements for animals. Pure phosphorus is used to make chemicals for use in industry.  The most important use of phosphate rock, though, is in the production of phosphate fertilizers for agriculture.  Virtually all common fertilizers have an "N-P-K" rating.  Phosphorus is the "P" in fertilizers.  Phosphorus is involved in numerous plant functions, but its most important role is helping plants capture the sun's energy and begin the photosynthesis process.
Phosphate Rock Mining
Most phosphate rock is mined using large-scale surface methods. In the past, underground mining methods played a greater role, but their contribution to world production is declining. Often extraction operations supply feed to a nearby fertilizer-processing complex for the production of downstream concentrated fertilizer products. Currently, most phosphate rock production worldwide is extracted using opencast dragline or open-pit shovel/excavator mining methods. This method is employed widely in parts of the United States, Morocco and Russia.
During surface mining, overburden is drilled, blasted, and removed by dragline to the side of the mining area for subsequent reclamation. Small draglines, electric shovels and bulldozers recover the upper ore body. The intercalating limestone layer is then blasted and removed to expose the phosphate bed, which is loaded onto trucks. Dredge mining uses bucket wheel excavators, draglines, scrapers, shovels and dredges. The three major methods of hauling materials in phosphate mining are pumping, trucking and transporting using conveyer belts.
Phosphate Rock Mining Process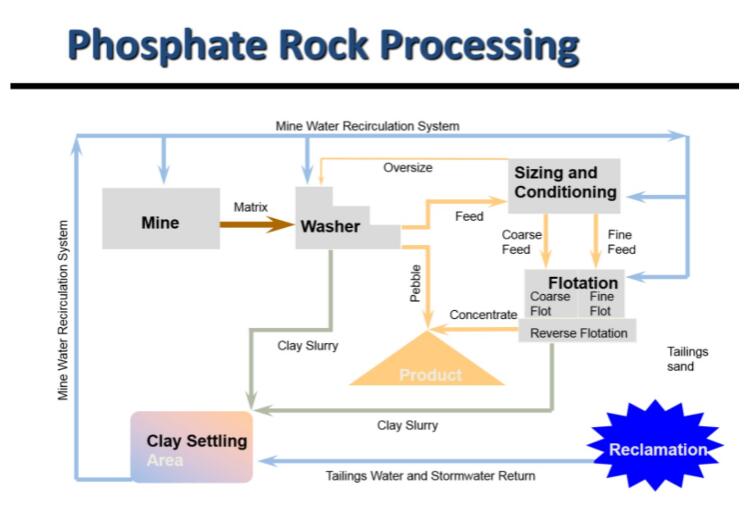 Flotation process
Direct flotation inhibits gangue minerals by effective inhibitors, and the phosphorus mineral is enriched in foam by collecting agent. This process is suitable for low grade phosphate ores including magmatite type apatite and sedimentary metamorphic type phosphorite ore
Reverse Flotation Process
Mainly used for the separation of phosphate and dolomite; dolomite is collected with fatty acid collector in weak alkaline medium, and the phosphorus mineral is enriched in the groove. The biggest advantage of reverse flotation process is the realization of the normal temperature flotation.
Double-Reverse Flotation Process
In alkaline conditions, double-reverse flotation makes the silicate surface positively charged, and the anionic collector separates minerals meaning floating dolomite firstly, and then reverse floating silicate; the product is heavy concentrate in groove; the production line can be carried out at normal temperature and coarse grain condition.