Potash is any salt, mined or manufactured, which contains the element potassium (K) in water-soluble form. Primary potash minerals include potassium chloride (KCl or sylvite), potassium sulfate [K2SO 4 or sulfate of potash (SO P), usually a manufactured product], and potassium-magnesium sulfate [K2SO 4•2MgSO4 or langbeinite or double sulfate of potash magnesia (SO PM or K-Mag)]. The name derives from pot ash, which refers to plant ashes soaked in water in a pot, the primary means of manufacturing the product before the industrial era. The word potassium is derived from potash.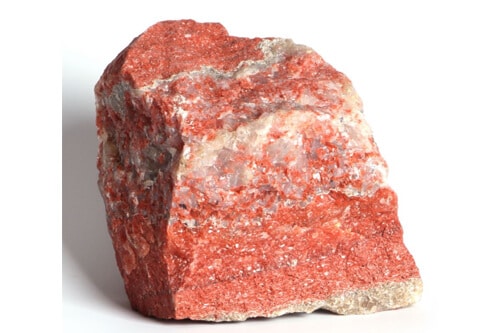 Potassium Mining
Potash is mined underground using boring machines, drum miners, or longwall miners and occasionally road headers. Boring machines feed directly onto conveyor belts connected to main haulage ways or over-bridge conveyors. Longwall conveyor belts discharge to a ladder-chain conveyor on the floor of a development roadway at one end of the longwall panel. The ladderchain conveyor discharges onto the conveyor belt leading to the skips of the ore hoist on the surface.
Solution Mining:
Solution mining can substitute for conventional shaft mining in potash deposits that occur below 3,000 feet.  Vertical pipes are drilled to supply water to the ore zone and a return pipe brings the saturated brine to the surface where it is evaporated in surface ponds leaving potash.
Potassium Uses
Potash is used primarily as a fertilizer in agriculture.