Halite, commonly known as table salt or rock salt, is composed of sodium chloride (NaCl).  It is essential for life of humans and animals. Salt is used in food preparation across the globe.
Salt/Halite Mining
Rock Salt Mining:
Many rock salt mines use the room-and-pillar method of underground mining in which the resource is extracted, leaving 'pillars' of the material untouched, which creates 'rooms.'
Solution Mining: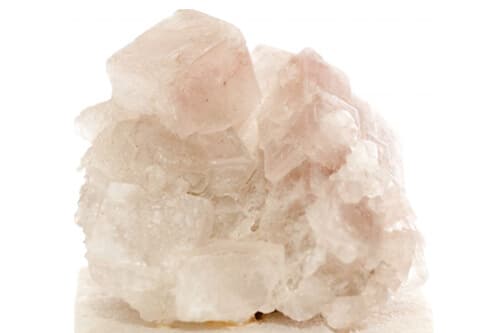 Solution mining involves injecting a solvent to dissolve and recover underground soluble salt minerals. The saturated brine is pumped to the surface for recovery via solar evaporation and further processing.
Seawater Evaporation:
Seawater is collected and allowed to evaporate in specially constructed concentration and evaporation ponds. The initial step concentrates the brine to raise the salinity and to allow various calcium, magnesium, and iron compounds to precipitate from solution. The brine circulates among a network of interconnecting gravity-fed ponds, with salinity increasing with each transfer. It takes approximately 2 to 5 years from the time seawater is initially introduced before the first salt is ready for harvest.
Inland Solar Evaporation:
The principles of solar salt concentration and production are similar to those along coastal margins except that salinity of inland lakes usually is greater than that of seawater and a yearly crop of salt can be harvested. As water flows over or beneath the surface, it dissolves minerals from underlying soils and rocks. The salt lakes are topographically lower than most of the surrounding areas and, therefore, become excellent sumps for mineral accumulation.
Salt/Halite Uses
Over 40% of salt is used in the chemical industry (mainly for the preparation of sodium hydroxide, soda ash, hydrochloric acid, chlorine and metallic sodium) and another 40% as a de-icer on roads in winter. The remaining is consumed in several sectors, including manufacture of rubber and other goods, agriculture, and food processing including table salt.
Salt/Halite Mining Process
Salt is generally produced one of three ways: deep-shaft mining, solution mining or solar evaporation.
Deep-shaft mining is much like mining for any other mineral. Typically, the salt exists as deposits in ancient underground seabeds, which became buried through tectonic changes over thousands of years. Many salt mines use the "room and pillar" system of mining. Shafts are sunk down to the floor of the mine, and rooms are carefully constructed by drilling, cutting and blasting between the shafts, creating a checkerboard pattern. After the salt is removed and crushed, a conveyor belt hauls it to the surface. Most salt produced this way is used as rock salt.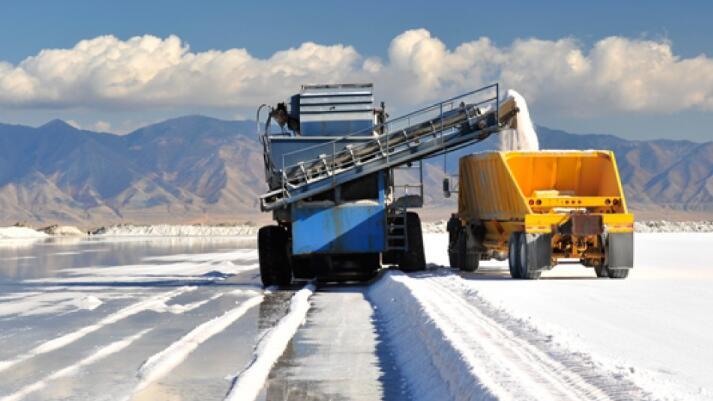 In solution mining, wells are erected over salt beds or domes (deposits of salt forced up out of the earth by tectonic pressure) and water is injected to dissolve the salt. Then the salt solution, or brine, is pumped out and taken to a plant for evaporation. At the plant, the brine is treated to remove minerals and pumped into vacuum pans, sealed containers in which the brine is boiled and then evaporated until the salt is left behind. Then it is dried and refined. Depending on the type of salt it will be, iodine and an anti-clumping agent are added to the salt. Most table salt is produced this way.
When solution mines are located near chemical plants, they are called brine wells, and the salt is used for chemical production. After the salt is removed from a salt mine, the empty room often stores other substances, like natural gas or industrial wastes.
Salt is harvested through solar evaporation from seawater or salt lakes. Wind and the sun evaporate the water from shallow pools, leaving the salt behind. It is usually harvested once a year when the salt reaches a specific thickness. After harvest, the salt is washed, drained, cleaned and refined. This is the purest way to harvest salt, often resulting in nearly 100 percent sodium chloride. Only areas with low annual rainfall and high evaporation rates -- Mediterranean countries and Australia, for example -- can have successful solar evaporation plants. Usually machines perform this harvest, but in some areas it is still done by hand.