Sulfur (S) is a bright, lemon yellow, soft, non-metallic element that has a very low thermal conductivity, meaning it cannot transfer heat very well. The touch of a hand will cause a sulfur crystal to crack because the crystal's surface warms faster than the interior. Sulfur melts at 108 degrees Celsius. Sulfur means "burning stone" in reference to its source from volcanoes and that it burns so easily. When sulfur is burned it combines with oxygen producing sulfur dioxide, SO2, which has a sharp pungent smell.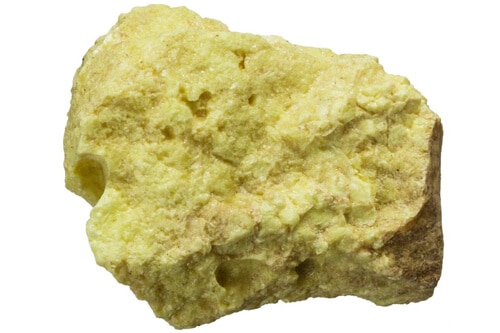 Sulfur Mining
Sulfur attaches to metal ions, creating a number of significant sulfide ore minerals such as galena (lead sulfide), pyrite (iron sulfide), chalcocite (copper sulfide), and sphalerite (zinc sulfide).  Mined sulfur is mostly from salt domes or bedded deposits. The vast majority is produced as a by-product of oil refining and natural gas processing.
Sulfur mining uses three different mining techniques: conventional underground methods, conventional open-pit methods, and the Frasch mining (or underground melting) method. In this process, hot water is forced into the sulfur deposit. The sulfur melts and is pushed to the surface where it is collected and allowed to cool and solidify, or shipped in molten form.
Sulfur Uses
The majority of the sulfur produced in the United States is used to make sulfuric acid. Sulfuric acid has multiple uses in the production of chemicals, petroleum products and a wide range of other industrial applications. Sulfur's main use is in making chemicals for agriculture, mostly for fertilizers. Other uses of sulfur include refining petroleum, metal mining, and the production of organic and inorganic chemicals. A multitude of products (such as the production of rubber for automobile tires) require sulfur in one form or another during some stage of their manufacture.
From the late 1800s to the end of the 20th century, the Frasch process of sulfur mining was commonly used. This involved forcing super-heated water into a sulfur deposit so the sulfur would melt and come up to the surface by way of compressed air. During the latter part of the 20th century, mining or recovering sulfur as a by-product of natural gas production or oil refinement became more significant.
Over the course of time, sulfur has been one of the most basic mined materials used in industrial production processes, which have been made more efficient and cost-effective through the technological advancements of mining machinery.