Improved Wilfley Table
6-s shaking table, also known as the mineral table, the FRP shaker table, is a gravity beneficiation device whose rod type table head and fixed axis type slope adjustment mechanism. Its structure is developed and improved from the Wilfley table.
Table Structure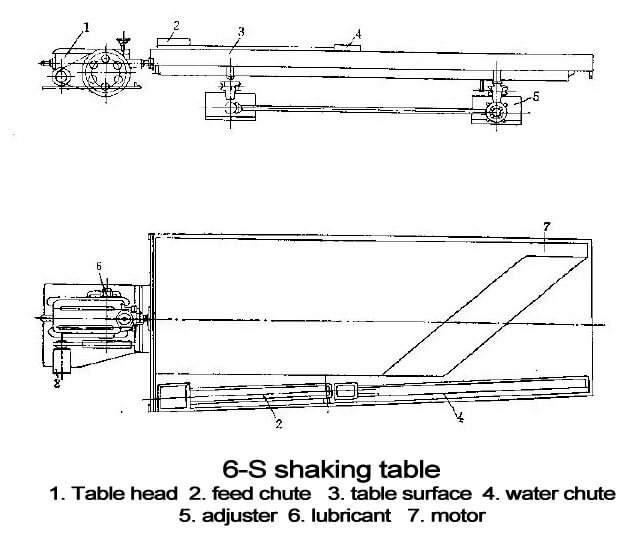 Main parts: table surface, frame, and transmission device.
The supporting device and the angle adjust mechanism of the shaker machine surface are all placed on the frame. The bed surface is supported by four plate-shaped rockers. This support type causes the table surface to reciprocate in a vertical plane with a slight vibration. When the rocker is slightly inclined to the bed end by about 4-5, the particle group on the bed surface is moved and loosened, so the shaker is more suitable for processing fine – coarse ore.
Shaking table working principle
The bed surface is trapezoidal or rhombic, has a lateral inclination of 1° ~ 5°. A trough and a water trough are arranged above the inclined edge, and a bed strip is arranged longitudinally on the bed surface, the height of which is lowered from the transmission end to the opposite side.
The entire bed surface is supported by the frame, and a transmission device is installed at one end of the bed surface, and the latter can have a rapid return motion characteristic when the bed surface is advanced near the end, that is, a so-called differential motion.
Advantages and application
6-S shaker is a common ore beneficiation equipment for sorting fine-grained ore, effective particle size range is 3 to 0.019 mm, and the upper limit particle size can be 10 mm when process coal.
The outstanding advantage of the 6-S shaker is the high accuracy of ore sorting. High-grade concentrate or waste tailings can be obtained by one sorting process, even multiple products can be taken out at the same time. Besides, the shaking table is easy to handle and adjust, low cost, is a good choice for gold mining.
---
JXSC provides types of shaking tables, like spring table, Wilfley table,  multi-layer table, centrifugal table. Contact mining engineer for model selection, and installation guidance.